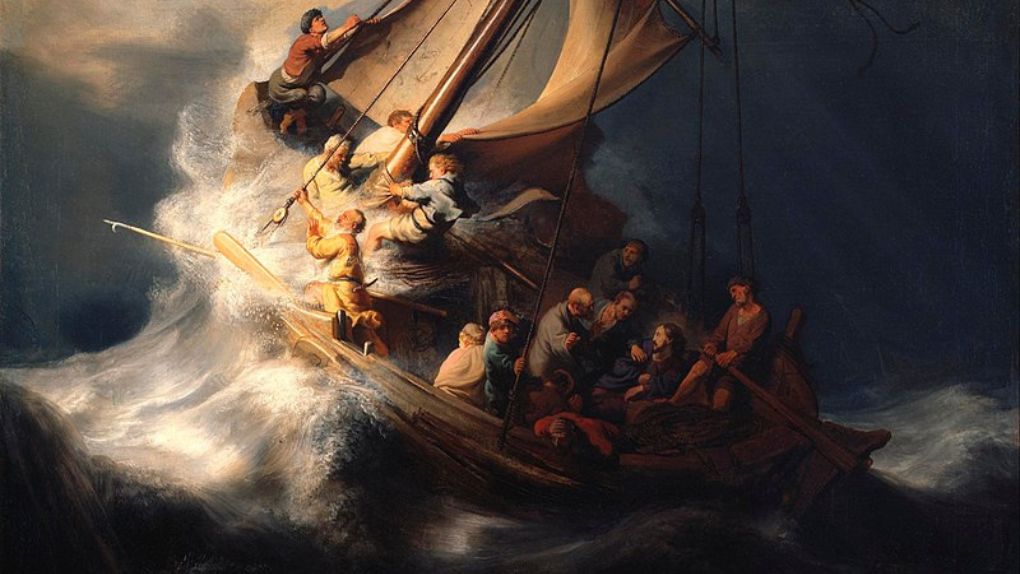 On March 18, 1990, two men in police uniforms walked into the Isabella Stewart Gardner Museum in Boston and walked away with thirteen artworks worth more than 500 million dollars. This is the biggest art theft in the U.S. The FBI believes with a high degree of confidence that the art was transported and is kept in Connecticut. But their investigation, raids, and the $5 million reward were unsuccessful, and the case remains unsolved to this day.
Rembrandt's The Storm on the Sea of Galilee was among the stolen artwork. This is Rembrandt's first and only seascape. It depicts the Gospel story for this Sunday – the calming of the sea by Jesus. Rembrandt's deep understanding of the story is evident in the sharp and dramatic contrast he created between the left and right sides of the painting. The left side is full of chaos, danger, fear, relentless waves tearing the boat apart, a giant and dangerous rock hiding in the shadows of the darkness, and disciples fighting for their lives and survival. 
On the other hand, the right side of the painting radiates with the presence of Christ, peace, safety and security. There, the waters are calm; there is no panic and anxiety, and everyone is safe and gathered around Jesus. It is as if the great master wants to tell and show us that regardless of the calamity, size and scope of the danger and storm, the boat can't possibly sink if Jesus is present in it.
Rembrandt's interpretation is also remarkable because he included and depicted himself in the painting. He is right in the very middle of the boat, holding tight to a robe. He understood that the calming of the sea is not an ancient story, myth, or legend but our story. It is about how we handle the stormy seas of life and the power of Christ's presence in our lives.
Humans are resilient and tough. We have an amazing ability to withstand and find our way through every storm life puts us through. But we are also human and there is only so much burden we can bear. When the vicious waves of misfortune, disease, job loss or a relationship breakup shake our boat from every side, it might appear that God is asleep and indifferent to our suffering. In such moments of despair and anguish, it is important for us to recall and be strengthened in hope and trust towards God by the message of this beautiful Gospel story. If we have faith, if we travel through the storms of lives with Christ, He will always be there with us, ready to rescue, save and protect us and calm the storms. The boat will never sink if Jesus is in it. We will always withstand, survive, rebuild our lives and heal our wounds from any deadly storm of life as long as we are in the presence of God and carry Christ in our hearts.