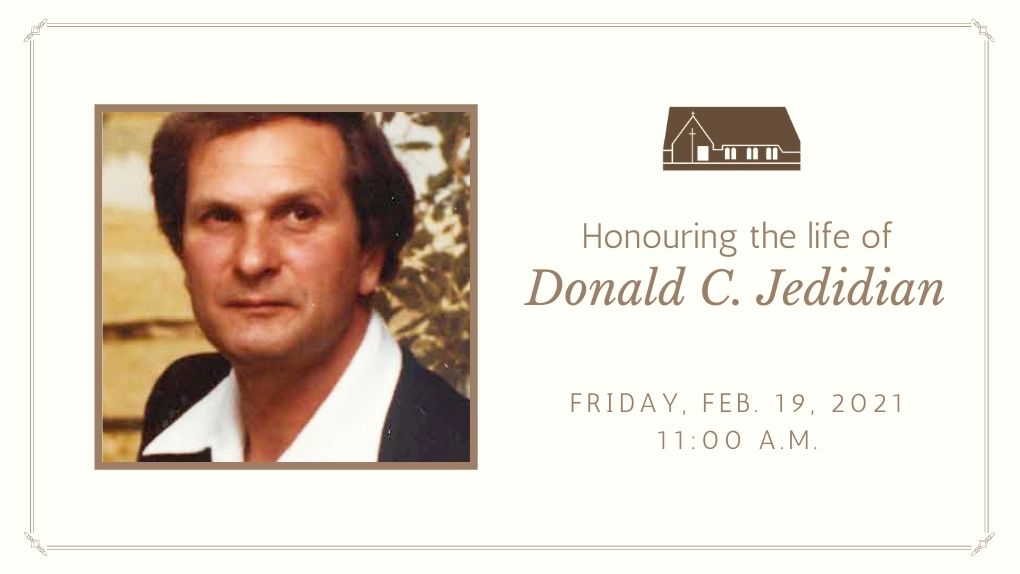 Donald C. Jedidian, 86 passed away Friday, February 12th after a courageous battle with prostate cancer. He was the son of the late Robin and Gertrude Jedidian. He is survived by his loving wife of 51 years, Irene ( Bogacz) Jedidian.
Born in New York City he lived in Mamaroneck NY, Hartford, and over 46 years in Wethersfield. He graduated from Bulkeley High School and served honorably in the U.S. Army. The Army took him to several countries in Europe and he enjoyed talking about his experiences. Don worked alongside his brothers, Ted and Bob at Jed's Vending and Amusement Company for over 35 years. He had a rare gift of wit and humor, often striking up conversations with strangers and leaving them with a smile or a laugh. Don had a special place for animals and loved a good game of golf, often boasting about his hole in ones. He loved the New York Yankees, New York Giants, and weekly card games with friends. He enjoyed lunches with friends at Hometown and monthly breakfasts with the guys.
He leaves to mourn his daughter Lauren Jedidian and her fiancé Christopher Alex and a precious Grandson Logan Alex along with several nieces and nephews.
The funeral will be Friday, February 19, 2021, 11:00 a.m. at the Dillon Baxter Funeral Home, 1276 Berlin Tpk. Wethersfield, CT 06109. Visiting hours will be Friday, prior to the service from 9:00 a.m. to 11:00 a.m. at the funeral home. Burial with full military honors will be private. Memorial donations in his memory may be made to St. George Armenian Apostolic Orthodox Church, 22 White St. Hartford, CT 06114. To share a memory with the family, please visit www.dillonbaxter.com