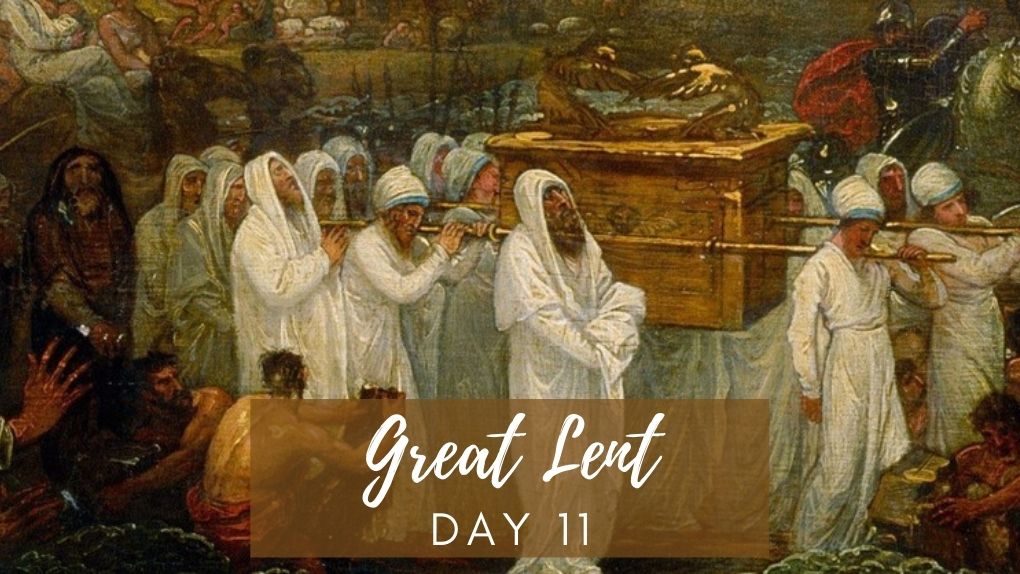 Scripture Readings
1 Samuel 3:21-4:18;  Proverbs 3:11-4:14;  Jeremiah 2:31-3:16
Prayer
Daily Prayer Rule for Great Lent
Reflection
"The Philistines deployed their forces to meet Israel, and as the battle spread, Israel was defeated by the Philistines, who killed about four thousand of them on the battlefield. When the soldiers returned to camp, the elders of Israel asked, "Why did the Lord bring defeat on us today before the Philistines? Let us bring the ark of the Lord's covenant from Shiloh, so that he may go with us and save us from the hand of our enemies."

1 Samuel 4:2-3
Four thousand soldiers died in a single battle. It was a complete disaster for Israel. They knew that Moses and Joshua used to take the ark of the covenant into the battle with them. Surely, turning to God, bringing this sacred and most holy object to camp and marching with it to a battlefield would guarantee a victory. Their plans fell apart as the Israeli army suffered much greater defeat and their enemy captured the ark. Five times in verses 11–22 we find the phrase "the ark of God was (is) taken" to describe the humiliation and shame that Israel must have experienced seeing its army destroyed, the greatest symbol of its faith and national identity in the hands of their enemy.
What they neglected to realize and recall was the fact that Moses and Joshua carried the ark of the covenant to a battlefield to glorify God and celebrate the divine presence in their lives. They did not simply use the ark and God as a convenient and powerful weapon whenever their plans fell apart.
People turn to God at different junctions of their lives for different reasons. But we can't reduce faith to a magical solution to which we turn when nothing else works. We can't reduce living God that can't be contained in a universe to a superhero that is obligated to rash to help us when we call his name. Rather, faith is a loving relationship, a joyful reality we are called to experience and seek in our daily lives. Faith transforms and transfigures us on every level, fills our lives with divine peace and unshaken hope, which can indeed sustain and protect us against any disaster and misfortune life might throw at us.