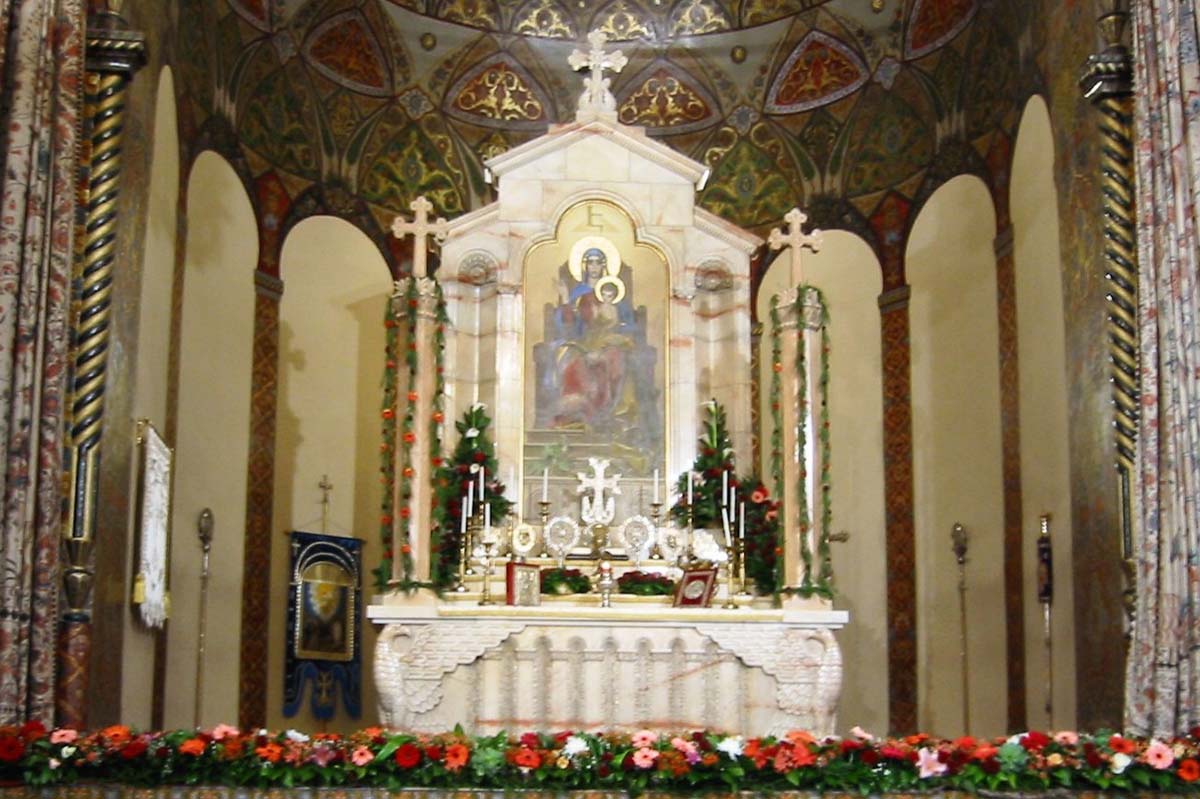 According to Archbishop Tiran Nersoyan's authoritative text and commentary of the Divine Liturgy, the altar of an Armenian Church should be arranged in this way. The entire table is normally covered in fine linens. An additional small, white linen cloth (known as corporal) is placed in the center front of the altar. Also in the center of the altar table, normally on one of the higher gradines, there should be a large Armenian-style cross. The book of the Gospels, ornately bound, is placed in the center of the altar. During the Divine Liturgy it is placed on the altar's right side (the left side as you face the altar) to make room for the holy chalice. Twelve candlesticks should be placed on the gradines or "steps" of the altar plus two more on the altar table itself. On the altar's left side (the right side as you face the altar) is a small table-top bookstand on which the Khorhrtadedr ("Book of the Mystery") is placed open. This book contains all the prayers offered audibly and inaudibly by the priest celebrating the Divine Liturgy.
The normal place for the chalice is in the niche in the north wall of the khoran (apse). It is only brought out to the main altar during the celebration of the Divine Liturgy, at the service of Washing the Feet on Holy Thursday, and on the vigil of high feasts.
Above and behind the altar hangs a consecrated image of the Mother of God enthroned with Jesus on her knee. This particular image represents the mystery of the incarnation, of the Son of God coming into this world by being born of Mary. Armenian vartabeds and theologians often interpret the Badarak in terms of the mystery of Christ's incarnation, since Jesus is revealed among us in the reading of the holy Gospel and in Holy Communion.
Other sacred objects may also be placed on the altar. A jajanch, or radiance, is an ornate, round reliquary fixed on a stem and base, containing a saints' relic. The aghavnee is a dove-shaped vessel containing the holy Myron (chrism). Its normal place is near the baptismal font, but sometimes it is placed on a gradine of the main altar. The srpadoop is a small, ornamented metal box that contains a few particles of Holy Communion reserved from a previous celebration of the Badarak. The priest takes the srpadoop with him to administer Holy Communion to the sick and shut-ins. The srpadoop may be placed on the main altar or in the niche in the north wall of the apse.
Source: Frequently Asked Questions on the Badarak, The Divine Liturgy of the Armenian Church by Michael Daniel Findikyan.