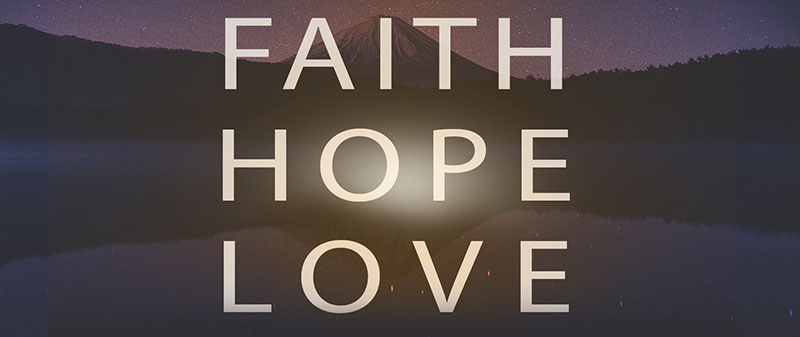 When was babies were brought to church to be baptized, standing next to baptismal font something very interesting and important happened when the priest asked our godfathers the same question three times, over and over, "Godfather, what does this child request". And each time the godfather would reply quoting the words of St. Paul "faith, hope and love" (1 Cor. 13:13). Three simple words that reveal the fabric of our faith and the DNA of our spirituality.
Today, I want to talk about one of these words – hope. It is quite easy to understand and see why our journey as Christians starts by proclaiming our faith and love. But what about hope? What makes hope such an important concept for us as Christians to be placed right next to faith and love for God? And why would the Christian Church go so far as to classify hopelessness a sin and unacceptable state of mind and soul for Christians?
Think about the recent posts on your newsfeed. Unverified, unclear and random statistics, numbers and predictions about how bad this is going to get, people going back and searching for prophecies about the Coronavirus, people talking about the wrath of God upon humanity. During the last week I felt and witnessed more hopelessness around me than I did during my entire life. Maybe, I didn't even know what hopelessness truly feels and looks like until last week. And then, at some point, you realize that this wave of darkness is not just information, it is a force that gradually drags your soul down.
We need to stop. We need to take a hard look into our soul and faith before this senseless tornado of unconstructive, unverified and unchecked negativity drags us near the abyss of hopelessness from where there is no escape.
Yes, each and every one of those news headlines, Facebook predictions and prophecies might be true. However, there is no room in our hearts for the poisonous and infectious hopelessness that leaks from all that, hopelessness that is far more dangerous than the killer virus. We, however, believe in faith, hope and love. We believe in faith that is greater than anything life can throw at us. We believe in hope that our loving father will never abandon His children. We believe in the healing power of love through which we hold each other up, encourage and support each other with compassion and empathy.
Therefore, my brothers and sisters, there is always hope. When we see the situation around us degrading by each hour there is hope, when we think we hit the rock bottom there is hope, when the darkness surrounds us and light and positivity fades away there is hope, when everyone tells us there is no hope  – there is hope.
In the Gospel of Matthew, we read, "Are not two sparrows sold for a penny? Yet not one of them will fall to the ground apart from your Father. And even the hairs of your head are all counted. So do not be afraid; you are of more value than many sparrows." Therefore, my dear faithful, there is always hope.
May our Savior keep you safe and unshaken, heal the sick, dispel all hopelessness from our lives and feel us with hope, faith and love. Amen.