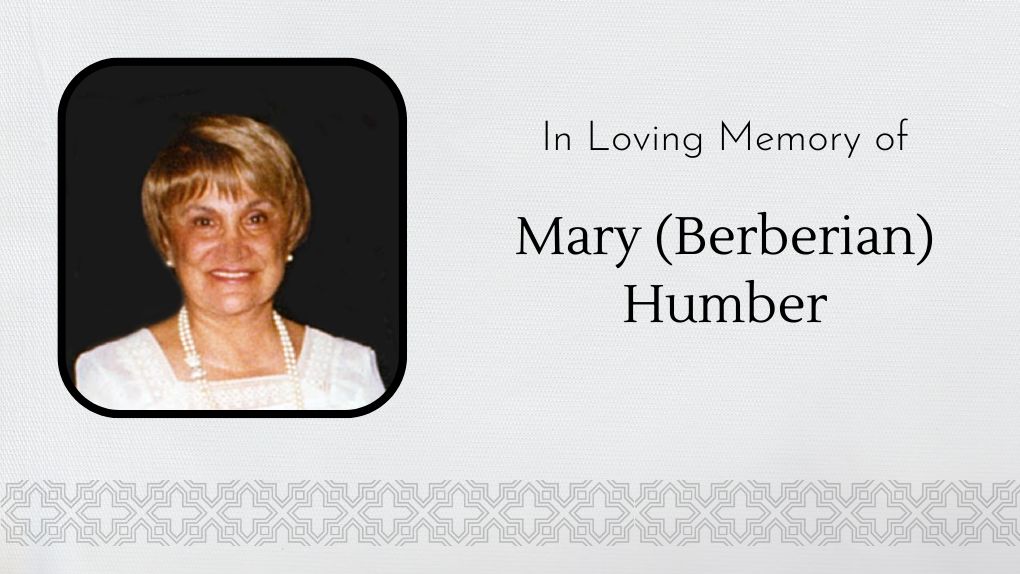 HUMBER, MARY (BERBERIAN) of Winchester passed away peacefully at home on July 19, 2022 with her husband by her side. Mary was born on February 8, 1926, in Somerville, MA to the late Harotune and Angele (Nishanian) Berberian. She is survived by her devoted husband, Richard F. Humber, stepson Richard W. Humber and Kimberly of Lemont, PA, nephew Thomas Garabedian of Falmouth, MA, niece Andrea G. Karanian and Robert of Avon, CT, nephew Kenneth Toomajian and Gail of Reading, MA, niece Audrey G. Urbanik and the late Edward of Wethersfield, CT, and Patty, wife of her nephew the late Steven Toomajian of Nahant, MA. She also leaves behind many loving nieces and nephews. The family extends thanks to Grace Naluwu and Abieyuwa Erhunmwunsee who provided loving care to Mary. She will be missed by her beloved cat Precious. Mary was predeceased by her loving sisters and brother-in-laws Dora and Haige Garabedian and Emma and Sarkis Toomajian.
Mary graduated from Watertown High and Burdett College, Boston. She worked as Group Secretary at MIT Lincoln Laboratory and was promoted to Senior Buyer in the Purchasing Department. She retired in 1993 after 43 years of service with MIT. Her main hobby and love was travel. She visited many countries all over the world. She loved animals and imagined a second career caring for animals.
Mary studied voice at the N.E. Conservatory of Music and was an avid lover of opera and theater. She was a soloist and member of the St. James Choir and was a longtime member of the Armenian Students Association (ASA). Mary served as a volunteer at the Wang Theater for many years and also volunteered at Children's Hospital, the Museum of Science, and the Armenian Museum of America in Watertown.
A funeral service will be held at St. James Armenian Church, 465 Mt. Auburn Street, Watertown, on Monday, July 25, 2022, at 12 pm. Visitation period will be held in the Church sanctuary from 11 am- 12 pm. Interment will be at Ridgelawn Cemetery, Watertown.
In lieu of flowers in Mary's memory may be made to St. James Armenian Church or to PAWS Wakefield, 411 Lowell Street, Wakefield, MA. For online guestbook and directions, please visit www.giragosianfuneralhome.com.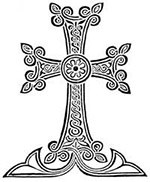 May God rest the souls of the departed and comfort the members of their families.
Տէրը լուսաւորէ ննջեցեալներու հոգիները, եւ Սուրբ Հոգիի մխիթարութիւնը պարգեւէ անոնց հարազատներուն: