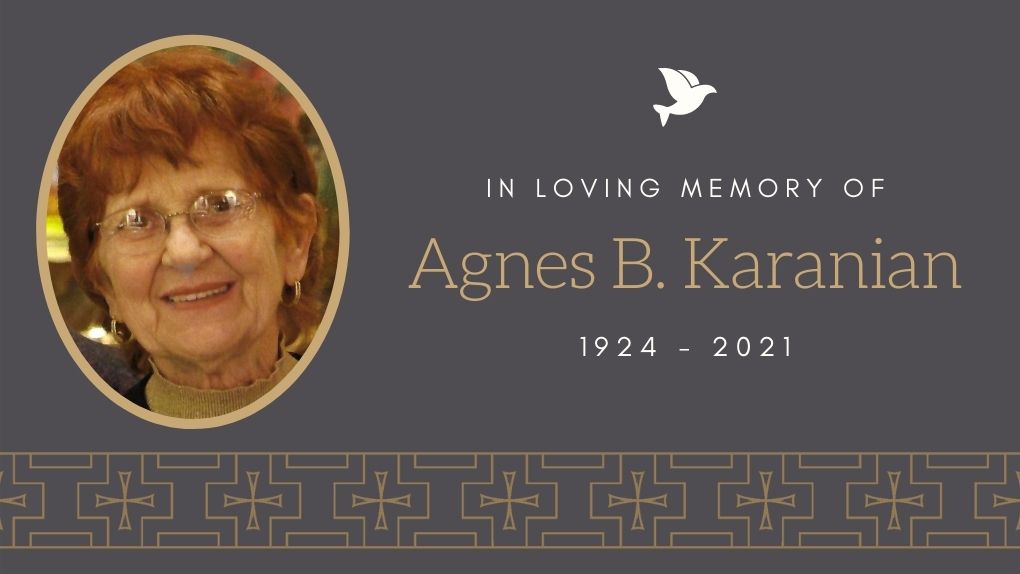 Agnes B. Karanian, 97, of New Britain, Connecticut passed away on June 15, 2021. Agnes was born in 1924 in Pawtucket, RI, to Osgean and Houstian Barsoian. Her parents were both from the Sebastia region of Armenia and were survivors of the Armenian Genocide. Agnes was the eldest of their two American-born children. She was predeceased by her husband Henry Zareh Karanian who passed in 2008. They were happily married for 60 years and lived almost all of their married lives in New Britain.
Agnes was a proud member of Connecticut's Armenian-American community. A member of the Ladies' Guild of St. Stephen's Armenian Apostolic Church in New Britain, she served as a national delegate to the Convention of the Armenian Church. She served as President of the New Britain Chapter of the Armenian Relief Society, a humanitarian organization and also taught Armenian history to children at the local Saturday Armenian School.
Agnes is survived by her four sons. Robert and daughter-in-law Andrea of Avon, William and daughter-in-law Denise of Kensington, Philip and daughter-in-law Nancy of West Hartford, and Matthew of Pasadena, Calif. Agnes also leaves her loving grandchildren: Elyssa Karanian Hall, Justine and Jarod; Alanna; Caroline, Colleen, Genevieve; and great granddaughter, Violet Hall. Additionally, she leaves her dear Godchildren Carolyn, Charlene, and Jennifer, and her many cousins, nieces, and nephews. Agnes was predeceased by her brothers, Harry Barsoian, Matthew Barsoian and Ernest Yeghian– all from Pawtucket.
Everyone who knew Agnes loved her and became endeared to her because of her friendly disposition and lively spirit. Agnes enjoyed cooking and baking. Her specialties included pagach, choreg and simit cookies, as well as dolma or yalanchi, using old Armenian recipes passed down to her from her mother or shared by her relatives and friends.
She enjoyed spending summers with family at her year-round beach home in Old Lyme. On occasion she would even venture into the water with her grandchildren! Agnes loved to listen to music and specially to dance. She looked forward to the summer picnics of the Armenian churches of New Britain, CT, Watertown, MA, and Providence, RI and was often found at the head of the line.
Calling hours are from 9:30-10:30 with funeral service at 11 a.m. on Saturday, June 19 at St. Stephen Armenian Church, 167 Tremont Street, New Britain, CT. In lieu of flowers in her memory, may be made to: The Armenian Tree Project, 400 Cummings Park, Suite 3900, Woburn, MA 01801; The Armenian Relief Society, 80 Bigelow Ave., Watertown, MA 02472; or St. Stephen's Armenian Apostolic Church, 167 Tremont Street, New Britain, CT 06051. Funeral arrangements are being handled by Erickson-Hansen Funeral Home, 411 S. Main St., New Britain.
May God rest the souls of the departed and comfort the members of their families.
Տէրը լուսաւորէ ննջեցեալներու հոգիները, եւ Սուրբ Հոգիի մխիթարութիւնը պարգեւէ անոնց հարազատներուն: