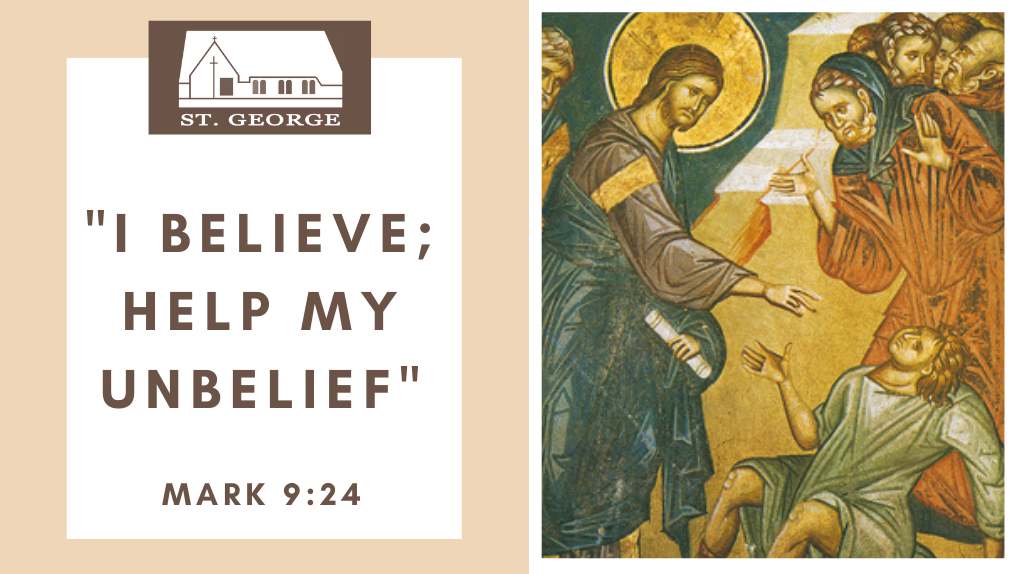 In today's Gospel reading a father brings his very sick child to Christ for healing. We learn that the boy was suffering from this condition from a very young age. Undoubtedly, the father prayed for a healing and tried many remedies without ever being able to find a cure. And even the apostles tried and were not able to help them and cure the boy. It is at that moment of heartbreak and disappointment that Jesus approached. The father cried out and begged Christ, saying: "I believe; help my unbelief!" This profound display of humility, powerlessness and hope was perhaps why Christ healed his Child.
Was he blaming his lack of faith for his child not being cured and healed? Was this man's faith wounded and hope shattered by a lifelong disappointment and pain? Or did he perhaps realize that no amount of faith can ever be sufficient to raise us to the Holy of Holies and bring healing to our lives because always and for everything we ultimately rely on the mercy, compassion and love of Christ.
Surely, we believe in God, understand He alone is Holy and all-powerful. Certainly, we are aware of our limitations, the wounded and fractured nature of our faith. But how often do we put the two together?
When we bring and offer all we have to God with a clear understanding, faith and trust in his power and love, a miracle emerges in our lives. The sick child of the father, admitting the insufficiency of his faith, is healed, a few pieces of bread and two fish is suddenly enough to feed the multitude. 
Our Badarak reflects on and highlights this every Sunday. It is after we proclaim and sing "The ONLY holy, the ONLY Lord, Jesus Christ…" that the celebrant turns to the congregation with the chalice and the life-giving Body and Blood of our Lord inviting us to come forward and commune to everything we asked for – "Life, hope and resurrection".