Vartanush Tavadyan, 95, of West Hartford, passed away peacefully on Friday, February 11, 2022. Born in former Soviet Union, she came to the US in 1994.
A loving mother, grandmother and great grandmother she is survived by her daughter, Alvina, her grandsons Kahren and Levon and their families, her granddaughter Lilly and her family, sons-in-law Boris and Tigran.
She will be missed dearly by all of her family and will be forever in our hearts.
A private family funeral service will take place at Duksa Family Funeral Homes at Newington Memorial, 20 Bonair Ave., Newington. She will be laid to rest in West Meadow Cemetery, Newington.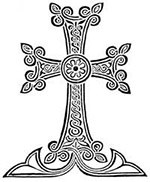 May God rest the souls of the departed and comfort the members of their families.
Տէրը լուսաւորէ ննջեցեալներու հոգիները, եւ Սուրբ Հոգիի մխիթարութիւնը պարգեւէ անոնց հարազատներուն: