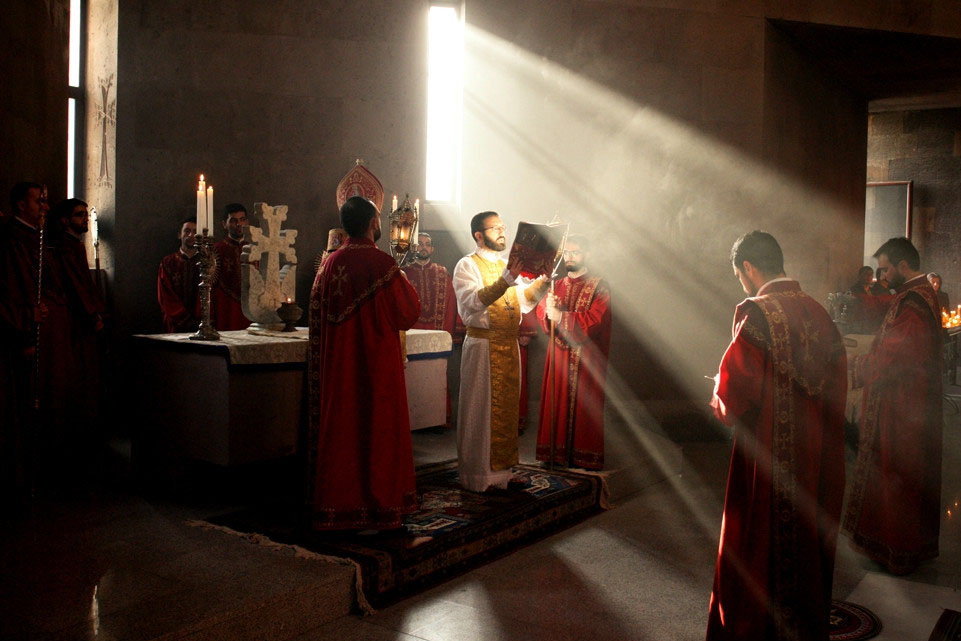 As a rule, churchgoers should make every effort to arrive at church and to enter the sanctuary a few minutes before the start of the Divine Liturgy. If you arrive late or have to leave the sanctuary for some reason during the course of the Badarak, you should try to (re-)enter the sanctuary either when the curtain is closed, or when the choir is singing. In any case, you should not enter the church at the following times: anytime the priest is facing the people; during the Procession; during the procession with the Gospel ("Soorp Asdvadz"); during the reading of the Scriptures and the Gospel; during the Creed; during the procession with the chalice; during the Kiss of Peace.
Strictly speaking, no one should enter the church after the Kiss of Peace because that is the beginning of the Eucharistic Prayer, the most solemn prayer of the Badarak. Those arriving at church after that point should observe the service from the narthex (kaveet), the entry area in the front of the church. They may enter quietly during the litany before the Lord's Prayer.
Source: Frequently Asked Questions on the Badarak, The Divine Liturgy of the Armenian Church by Michael Daniel Findikyan.